Today is the day that my Sayang turned 23 years old. So proud of him~!! Went back to KL just to celebrate his birthday early because Pahang tak cuti hari Isnin. Went out on a pre-birthday celebration on the 7th (baik punye awek). There were a lot of things happened before the 7th. Preparing for a suprise present was one thing, to keep it a secret to make it a suprise was the other.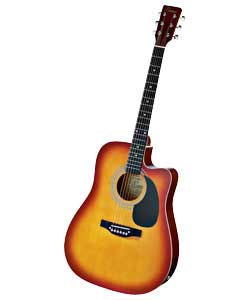 His wish was to get a brand new guitar with his own money (alahai..cian die..). So after doing some budgetting I realise that a guitar is the perfect present for him this year. I've searched for the perfect guitar from last week. We even had a fight because I went out and came back late to buy his guitar (but he doesnt know that i went out to buy his birthday present..tau marah je.x pe..B tak kesah pun kene marah). I even went out with a guy (he insisted in helping me pick out the best one~). After all the fuss about his present, I wanted to do a little something extra so that he remembers his 23rd birthday and his 1st birthday celebrated with me.
I made him a home-made cupcakes~! (sah sah memang menang award awek terbaik laaa..). The way to win a man's heart is through his stomach..so, it was my first time actually. I've baked cakes before tapi untuk makan kat umah je..so who cares if it doesnt taste as good or look good. But this...this is perfection baby~.